Top 5 tips that I found most useful for marketing or maintaining a successful cleaning business
Clean like it's your own: I can't stress enough how important it is to clean as if though you're cleaning your own personal things. Customers want to be able to rely on you and trust that you will get it done just as they want. Don't half ass it because it will reflect your entire business.
Market quality; not price: I've noticed that most people who want cleaning services, usually have money to spare, so that's not their concern. However, advertising quality will go a long way. For example, if you offer green cleaning as well as any other services, make ads and market your green cleaning to the max because many people would actually prefer that and wouldn't mind paying slightly more if they know they you will take care of them with better products.
Be flexible: People like to know that even with their busy schedule, they can fit you in because of your flexibility. Having open and flexible times is super important because if they become a regular customer, it's good for them to know that they can fit you in whenever is good with both of you.
Be remarkable: Having original and creative ideas or ads because that's more than half of what helps your business. The more people who see your business online, the better obviously.
Be smart: If you offer any special services, be professional about how you advertise it and use words. People can be convinced easily, so be smart about how you do it or it won't work.
Here is a sample house cleaning checklist, that will help you make sure that any home is properly cleaned.
You can find this downloadable template and others on the Sample Templates site
Enjoy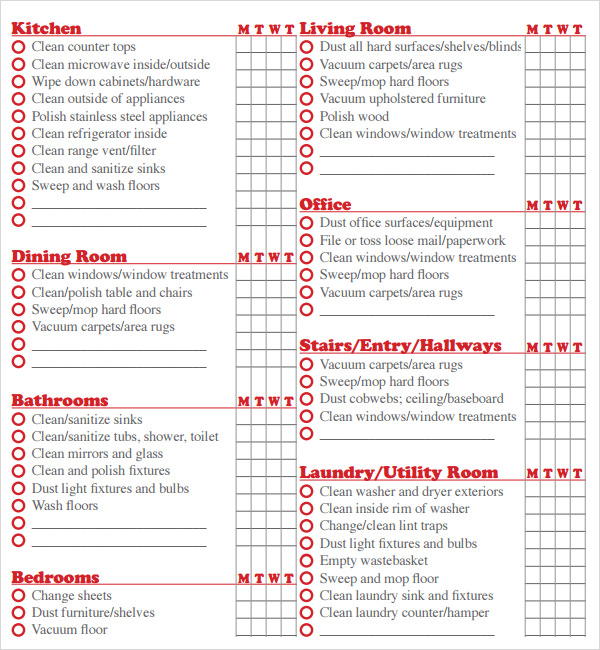 GD Star Rating
loading...
GD Star Rating
loading...
Top 5 tips for marketing or maintaining a successful cleaning business

,